Traditional Irish dance has advanced significantly over the last few years. This new modern Irish Dance is due partially to the research and development with the latest developments within the shoe industry. Ever more intricate steps are being choreographed into dances today, allowed by advancements in materials and construction of the shoes.
The traditional Irish dance hard shoes were simply not designed or made with todays advanced materials that could allow for such complex steps to be achieved by modern Irish dancers.
The hard shoes that your parents had to dance in, while being made from leather was of a lower grade than is used today. Thick stiff "belly leather" was used which was supportive but lacked the flexibility of a modern Irish dance show and had to be broken in causing much discomfort to the dancers' feet.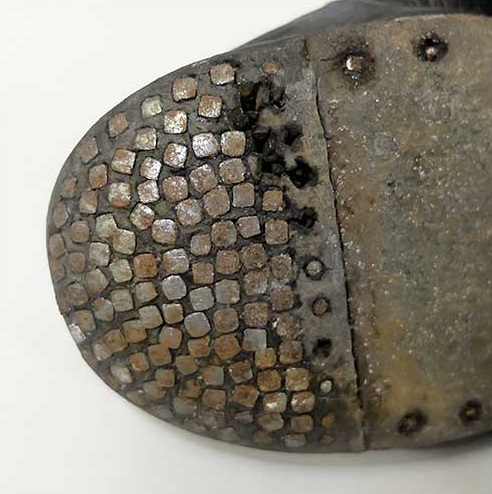 In the early years of Irish Dance there was the idea that the stiffer or more rigid a show, the easier it would be to get up on your toes. This was accomplished by adding an extra layer of thick belly leather to the insole of the shoe, effectively making a double soul which the hardened leather tip was then stuck. Then hundreds of tiny nails called tingles would be hammered into the toe piece to produce the sound.
The heels were also originally made from layer upon layer of hard leathers glued together with the final layer also being covered in tingles to create the sound.
As a result of all these additions to the original shoe, the weight and stiffness made these shoes incredibly uncomfortable and heavy to wear leading to stress and fatigue in these Irish dancers.
It wasn't until the late 80s where the tingle nails were finally replaced with metal taps like what you can still find in modern tap shoes of today. This certainly helped reduce the weight of these shoes but still the stiffness and uncomforting fit was an issue.
Education and understanding in sport biomechanics and the importance of warming up and stretching prior to dance classes and competitions, has led dancers to be aware of the importance in building core strength.
This in turn has compelled Irish dance shoe manufacturers to keep pace and produce shoes that are lighter but still offer the support needed for the sport. Modern linings are made from materials that help the wicking of sweat and provide cushioning. Ryan and O'Donnell were revolutionary with their new advancements in the field with exclusive "Noene" shock absorbing insole