With all the different names for equipment used in Irish dancing, things can get a bit confusing for beginners, so here is a simple guide to help you out.
PUMPS
Irish dancers generally wear two types of soft shoes called Pumps and Reel Shoes.
Pumps are most similar to a ballet slipper as they lace from toe to ankle. Made with black leather upper with a suede sole to make the full shoe very flexible and soft. Pumps are worn by female Irish dancers for the light jig, the reel, the single jig, the slip jig, and group dances with two or more people and they don't make any sounds against the dance floor.
The male equivalent of the females pumps is called a "Reel Shoe"  these are most similar to jazz shoes. Again soft black leather uppers similar to the pump but now with a fiberglass heel so they can "clicked" together while dancing. Generally the male steps are choreographed in a different style to the females dancer as to take advantage of the heels and to add a more masculine feel to their dance steps.
The Soft Shoes (with the criss cross laces) Names
Pumps
Soft Shoes
Pomps
Ghillies
Light Shoes
Reel Shoes
HARD SHOES
Irish dancers can use various names for these shoes.
Both male and female Irish dancers wear a hard shoe for certain dances. These Jig Shoes tend to have a more bulky appearance and generally have a fiberglass tip and heel for louder sounds  like in The Riverdance Shows.
Traditionally these heavies were made from thick hard leather uppers with wooden heel and tip with broad headed nails driven into them to create the characterized rhythms that form Irish dancing.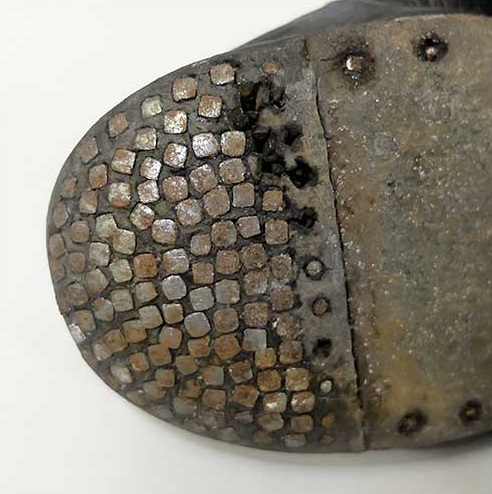 Luckily for modern dancers Ryan and O'Donnell have long since moved away from the old style of Hard Irish Dance Shoes and with up to date technologies have made the Evolution Hard Irish Dance Shoes with "Ekko Chambers" built into the nylon heels which both decreases the overall weight and also enhances the sounds from the dancers.
With straight from the box comfort no more do dancers fear getting new Hard Irish Dance Shoes as we have used athletic sports shoes advancements to offer softer leathers with unique shock absorbing insoles to dramatically reduce the stress and strains now put on our modern dance athletes.
The Hard Shoes (with the heels and tips) Names
Hard Shoes
Irish Tap Shoes
Tappers
Heavy Shoes
Heavies
Treble Shoes
Riverdance shoes
Jig Shoes
I hope this simple guide helps you get the most out of this amazing sport. If you have any questions please just get in touch as we are always happy to talk about Irish dancing.